Photographer Lia Barrett captures unique moments underwater
This is an archived article and the information in the article may be outdated. Please look at the time stamp on the story to see when it was last updated.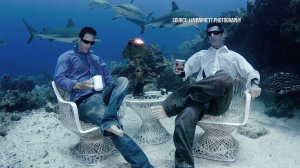 THE CARIBBEAN – Pictures of a family hanging out, or a picture of two friends enjoying a cup of coffee don't seem like anything out of the ordinary. That is unless you're photographer Lia Barrett.
Barrett took pictures of everyday scenarios 100 feet under the water of the Caribbean Sea. She used free divers for the shoot, so they were able to hold their breaths under water for a long time.
Lia says her inspiration for the photos came after she took pictures of divers at the Caribbean Cup Free Diving Competition off the coast of Honduras.
She's got a website loaded with many more under water and above water shots.
They say beauty is in the eye of the beholder, but in this case beauty was caught underwater with a camera lens.