This is an archived article and the information in the article may be outdated. Please look at the time stamp on the story to see when it was last updated.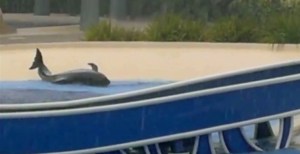 ORLANDO, FL – If the sharks are coming, it would be nice to have one or two dolphins jumping around to save your tush.
That's why it's so disturbingly painful to see the video of a pilot whale, a member of the dolphin family, stuck outside one of Orlando SeaWorld's tanks without anyone rushing to help.
For several minutes the dolphin struggled to return to the water with no luck. Even other dolphins came to give him a hand, or a fin. SeaWorld workers held off reasoning the animal would eventually manage to go back to the pool on his own.  But in the end, with the crowds screaming at them, two trainers agreed to save the mammal.
This episode reignites the debate over animal abuse and ironically brings attention to the new documentary film Blackfish. And of course this raises the age-old pitch from animal lovers that we stop using animals for entertainment and look instead for something a little bit more human.
What do you think?