This is an archived article and the information in the article may be outdated. Please look at the time stamp on the story to see when it was last updated.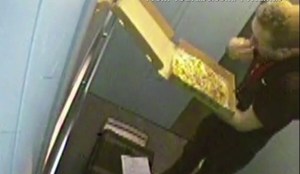 ST. PETERSBURG, RUSSIA – A pizza delivery man, in St. Petersburg, Russia is caught on surveillance camera picking the toppings off of a customer's pizza and eating them.
The delivery guy took a total of 8 bites, then closed up the box, straightened his outfit and presumably made his delivery.
The chain fessed up saying:
"Friends, we realize that our pizza is so tasty that even couriers cannot resist! But all the same, we decided that it was necessary to protect our clients from gluttonous staff."
They then showed a mockup of a locked up pizza, and said from now on the boxes will come sealed.
The delivery man has since been fired.