This is an archived article and the information in the article may be outdated. Please look at the time stamp on the story to see when it was last updated.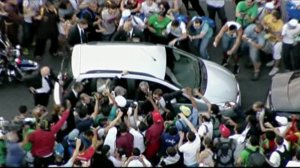 RIO DE JANEIRO, BRAZIL – The pope's first visit to Brazil is off to a rocky start, complete with wrong turns, protests, and a bomb.
But hey, just blame it all on Rio.
Pope Francis was on his way to meet Brazil's president when his driver made a wrong turn. The pope ended up in the middle of a crowd pushing against the car to get up close and personal.
This was not a happy time for the pope's security detail.
It also was not a happy time for protesters demonstrating against the government for spending around $53 million on the papal visit.
Police were surprised to find a bomb at a shrine to the Virgin Mary outside of Rio. They don't think the homemade bomb was meant for the pope, who will visit the shrine on Wednesday.
The pope also plans to show his commitment to the poor by walking through one of Rio's shantytowns known as favelas.
The pope says he is looking forward to week-long visit, telling Brazil's president that to really know Brazilians, one must pass through their heart.