Pope Francis set to canonize over 800 martyrs
This is an archived article and the information in the article may be outdated. Please look at the time stamp on the story to see when it was last updated.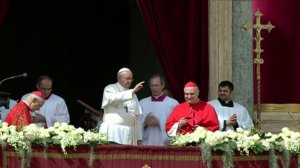 OTRANTO, ITALY – See these skulls? They're slated to become the world's next batch of saints.
That's right, over 800 of these martyrs in Otranto, Italy will soon join rank with Saint Michael (and everybody's favorite, Saint Patrick!) Pope Francis will canonize the bunch later this month.
And these guys must have the patience of saints: they've been waiting over 500 years to earn their new title. They were beheaded by the Turks in 1480, when they refused to denounce Catholicism and take up Islam instead. No record of their names exists, except one: a tailor named Antonio Primaldo.
While he's at it, Pope Francis will also canonize Laura of Saint Catherine of Siena, who is known for her defense of Native American rights, along with Maria Guadelupe Garcia Zavala, who co-founded a congregation and was its first mother superior.
Sounds like a lot of saints, huh? Well, it is. The move means Pope Francis will break the record for the pope who has created the most number of saints. Yea, we're sure former Pope Benedict loves that. How do you say "one upped" in Italian?