This is an archived article and the information in the article may be outdated. Please look at the time stamp on the story to see when it was last updated.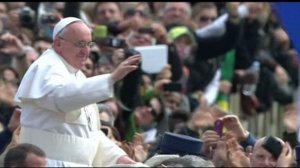 VATICAN CITY – Boy, it didn't take long for Pope Francis to stir up a controversy, did it? Barely two months after being elected holy leader of the Catholic Church, the 76-year-old Pontiff drew a spotlight on the Vatican from atheists and non-secular communities around the globe when he delivered a controversial address during mass from the Vatican. And while some within the Vatican are battling the attention the pope's remarks have brought, attention may be exactly what the holy leader had in mind when he stepped-up to the mic.
During his homily, Pope Francis declared that belief in Jesus wasn't necessary to win passage through the pearly gates and that good deeds on earth would serve just as well, going so far as to suggest that even atheists and agnostics would be redeemed in heaven so long as they lived good lives on earth.
It's a message those in the secular community want to take in good stead.
"I think it's beneficial for humanity when religious groups and non-religious groups demonstrate tolerance and respect for each other,' says Houston Oasis leader Mike Aus, 'so I think that's a step in the right direction."
It could be, if it had the support of the Vatican. Turns out Vatican leaders don't quite see eye to eye with their papal leader and quickly recanted the pontiff's remarks, saying that the pope's address was unprepared and that those who don't believe in god will still go to hell no matter how much good they do on earth.
"Getting to heaven is based on Jesus' sacrifice on the cross,' Aus explains. 'Well, if the Pope comes out and says, 'you can be good and still get to heaven,' it calls into question, why is Jesus even necessary?"
While it's likely that the pope's remarks were designed to attract non-believers to the church, it's more likely that the duel between leader and liaison has led to more confusion than confession.