This is an archived article and the information in the article may be outdated. Please look at the time stamp on the story to see when it was last updated.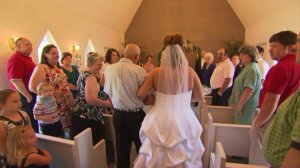 CHICAGO, IL – Did you get married without signing a pre-nup? Oh, c'mon! Who do you think you are: Paul McCartney? But don't worry a more popular than ever tool emerges: a post-nuptial agreement to bail you out of your mistake. It's like the day-after pill for all those who wake up with a post-wedlock hangover.
"Parties can usually use it in case they get married fairly quickly and they didn't have enough time to enter into a premarital agreement,' explained Houston Family Law Attorney Ashley J. Scott. 'In these cases they may want to go back and sign a post-nuptial agreement."
Post-nups are allowed in nearly 50 states in the U.S., and according to the American Academy of Matrimonial Lawyers, 51% of attorneys say they saw an increase from 2009 to 2012.
"Now that D.O.M.A. has been ruled unconstitutional, I would imagine we would see an increase in post-nuptial agreements because it will allow for same-sex couples to convert any kind of property maybe into community property or to keep property separate property."
Many people believe love may not last forever, so dividing money and assets in advance could save the troubles of an ugly divorce. It might work, who knows? But let's be honest: too much effort placed in dividing and not in uniting, can sometimes become a self-fulfilling prophecy.