This is an archived article and the information in the article may be outdated. Please look at the time stamp on the story to see when it was last updated.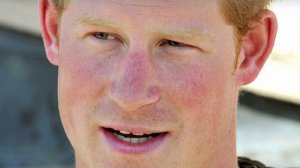 LONDON, ENGLAND – Talk about fire and ice. Our favorite flame-haired prince cooled his royal buns overnight in a freezer.
All this in the name of charity. What a prince!
Little Georgie's uncle is prepping for Walking with the Wounded South Pole Allied Challenge, which will embark in November.
It's a two-week trek in which U.S., British and Commonwealth teams (that's Canada and Australia) compete against each other, raking in money for military charities while they're at it.
Side note: True Blood star Alexander Skarsgard is heading up the U.S. team.
Harry's 20-hour stint in the freezer gave him an idea of what he'll be up against. He reportedly endured -31 degree temps and wind speeds of 45 miles per hour.
When asked what the worst part of this ordeal was, he said "going in." let's just hope he was wearing more than he did in Vegas!