This is an archived article and the information in the article may be outdated. Please look at the time stamp on the story to see when it was last updated.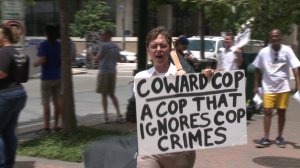 HOUSTON, TX – A Houston cop who shot and killed a double amputee has been cleared of murder, but activists and protesters haven't cleared the incident from their minds.
Officer Matthew Marin received a no-bill for the death of Brian Claunch. Now people are calling "no bull" in protest. They gathered outside of the Criminal Courthouse in Downtown Houston Tuesday and are demanding action from the Harris County District Attorney's Office.
"We are trying to push for our Harris County D.A. to proceed with pursuing charges against Officer Marin since this is his second time of killing a citizen," said Shere Dore with Peaceful Streets Project.
Back in September, cops were called to a group home where Claunch, who was said to be a schizophrenic, was reportedly being disorderly. Cops say Claunch, who was in a wheel chair and missing an arm and a leg, waived a pen at them. Claiming to not know it was just a writing utensil, Marin fired his gun. He shot Claunch in the head.
"As long as they're killing one-armed, one-legged people in wheel chairs and getting away with it, they're not going to respect our rights. They think they're above the law because they are above the law right now," said protester Antonio Buehler.
The D.A.'s Office made the statement, "If there had been any indication of wrong doing there would not have been a no bill… The officer clearly followed all standard operating procedures."
Well, some people have a problem with those "procedures."