This is an archived article and the information in the article may be outdated. Please look at the time stamp on the story to see when it was last updated.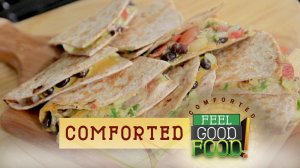 Quesadillas… part 2. This week's version is full of fresh, vital ingredients. But there's still enough pizazz to tickle your fancy!
Black Bean & Veggie Quesadillas – Feel Comforted
Ingredients
3 tomatoes, chopped
½ onion, chopped
2 cloves garlic, minced
1 cup loosely packed cilantro, chopped, divided
2 limes, juiced, divided
Salt and pepper
2 avocados, mashed
8 oz. black beans, drained and rinsed
¾ cup shredded cheddar cheese
4 8-10 inch flour tortillas
Olive oil cooking spray
Optional:  sour cream and tortilla chips for serving
Instructions
Prepare homemade pico de gallo: combine the tomato, onion, garlic, ½ cup cilantro, juice of 1 lime, salt and pepper.  Toss well.
Prepare homemade guacamole: combine mashed avocado, ½ cup cilantro, juice of 1 lime, salt, pepper and half of the pico de gallo.  Toss well.
To prepare the quesadillas: sprinkle a handful of beans and 2-3 tablespoons of cheese over half of each tortilla.  Coat a medium skillet with cooking spray and raise the heat to high.  Fold the tortillas in half, and one or two at a time, place them in the skillet.  Cook for about 1 minute per side, until the cheese melts.  Turn the heat down if necessary to avoid burning.  Continue with remaining tortillas.
Open each tortilla and spoon some pico de gallo and guacamole inside.  Fold them again and reheat once more, for 1-2 minutes per side, until crispy and golden brown. Again, lower the heat if necessary to avoid burning.
Cut the quesadillas in half. Serve with sour cream as desired. Any remaining guacamole and/or pico de gallo goes nicely with tortilla chips on the side.
Serves 2.