This is an archived article and the information in the article may be outdated. Please look at the time stamp on the story to see when it was last updated.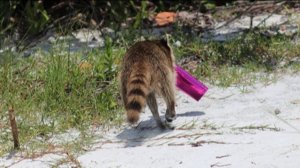 FT. MYERS, FL – A victory for this little gal named Tampa Red. She was nursed back to health in Tampa, Florida after a red tide nearly killed her. It was her day to shine as she returned back to the gulf, complete with a tracking device that is supposed to fall off after a couple of years.
But wait a sec, a raccoon rummages through beach-goer Danielle Araica's bag and snatches her pink wallet. But it didn't take long for the four-legged thief to change his mind.
"He dropped it and then I had that little boy go in there and fetch it for me," said Danielle.
He stole a pink wallet and nearly stole the spotlight.