This is an archived article and the information in the article may be outdated. Please look at the time stamp on the story to see when it was last updated.
HOUSTON -  Hey man,  is all that weed making you hungry? Ha ha just kidding! Head for the Reggae Hut Cafe in the heart of Midtown, where they've been dishing out plantains for the last 20 years.
These days, the man behind "The Hut" is Marcus Davis, a native Houstonian and Texas Southern University grad. But he's probably best known for being the mastermind behind the Breakfast Klub.
There's lots to choose from on the Reggae Hut's menu, but two of their signature dishes are Jerk Chicken and Brown Stew Chicken.  Think of Jerk Chicken as Jamaican barbecue. "It's meet that's rubbed with a number of herbs and spices, the main ingredient being pimento or All Spice and then it's marinated and smoked using pimento wood" says Davis.
The Brown stew will fill your belly and put you in an island fog.  It's "a chicken that is seared and then stewed in a tomato-based sauce" Davis explains.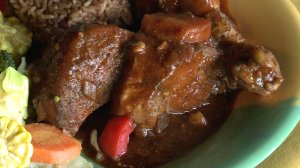 Don't worry shrimp lovers, there are several options including garlic shrimp, curry shrimp and jerk shrimp.
But we wondered, what Davis's favorite dish is? "That's a tough one for me. Depends on the day of the week. One day I'm in the mood for a delicious Jerk Chicken, the next day I'm in the mood for Oxtails."
If you can't make it to the Caribbean, the Reggae Hut will give you a taste of the islands.