This is an archived article and the information in the article may be outdated. Please look at the time stamp on the story to see when it was last updated.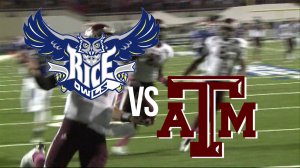 COLLEGE STATION, TX – Here's a real life David and Goliath, the Rice Owls versus the 7th ranked Texas A&M Aggies. On Saturday they'll kick off the 2013 season together. This will be the first time in nearly 20 years these two teams meet at Kyle Field.
Rice head coach, David Bailiff said, "We're excited to go up there and play one of the best in the country this year and see what we can do… Our players have worked hard, we're excited about the season, the players are excited about the game, ya know we really believe we're gonna be a top team in conference USA this season and ya know, we're thrilled to go in there.  It's a great measuring stick for what kind of team we're gonna have."
Bailiff, in his seventh season with the Owls, is no stranger to being the underdog. In 2012 his guys rallied from their 2 and 6 record to close out the season at 7 and 6, winning the Armed Forces Bowl. His leader on the field thinks playing with that same sense of desperation will be key this season.
"We have an opportunity to really step forward as a program, and to have that sense of urgency like we did last year, you're 2-6 and you gotta win every game to go to a bowl, well now it's have that sense of urgency about going and winning our conference," said Rice's QB Taylor McHargue.
Going into the game with 19 fifth year seniors, Rice is bringing a ton of experience to the table. Whether that translates into shutting down Johnny Manziel is another story.