This is an archived article and the information in the article may be outdated. Please look at the time stamp on the story to see when it was last updated.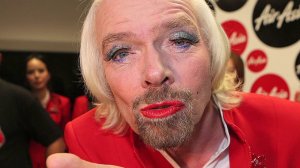 LONDON – Richard Branson is known to be a daring man, but apparently he's a pretty bold woman too!
The founder of the Virgin Group went drag on an Air-Asia X flight from Australia to Kuala Lumpur over the weekend. He was reportedly making good on a lost bed to the airline's CEO, and turned the whole thing into a fundraiser for a children's charity.
Branson did everything from serve drinks to make announcements. The only place he obviously took a short cut was on shaving (but ladies try to get away with that too).
The dress-up raised almost $200,000. We bet it did a lot for his sense of self too.