This is an archived article and the information in the article may be outdated. Please look at the time stamp on the story to see when it was last updated.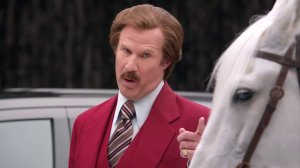 AUBURN HILLS, MI – He's back! From anchor desk to show-room floor — the world's most famous fake anchorman is now moonlighting as a car salesman?
Nothing fake about this, Ron Burgundy aka Will Ferrell is the new spokesperson for the very real 2014 Dodge Durango.
How Dodge managed to lure Burgundy away from the 1970 Pontiac Catalina he drove in the first anchorman is a mystery; maybe it's the big contract they reportedly offered him.
Ron's a busy guy, not only has he shot 70 Durango ads, mostly for the web, Anchorman 2 is set to hit theaters in December.