This is an archived article and the information in the article may be outdated. Please look at the time stamp on the story to see when it was last updated.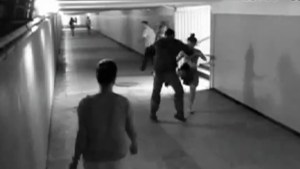 MOSCOW, RUSSIA – Surveillance footage taken from an underground subway station in Moscow shows a man walking down the stairs approaching a woman texting on her cell phone thinking she's easy prey. The thief then snatches it from her hands.
But, this is no damsel in distress.
Instead of letting him walk away with her phone, she beats the man down and takes her phone back.
Some are saying there's no way this really happened.
After collecting over 94,000 views on YouTube a lot of skeptics say this is a fake.
Fake or not — it's definitely entertaining.