Rutgers fires coach Mike Rice for abusing players
This is an archived article and the information in the article may be outdated. Please look at the time stamp on the story to see when it was last updated.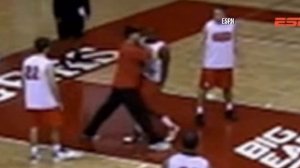 NEW BRUNSWICK, NJ – Rutgers basketball coach Mike Rice was canned after video surfaced of him kicking, screaming, taunting his players with slurs and throwing balls at them.
If you've never heard of Mike Rice you're not alone. He could be considered today's Bob Knight without the winning record.
The video was shot during practices from 2010 to 2012. Rutgers Athletic Director and President saw the videos last year and had already suspended Rice for 3 games and fined him $50,000, but it looks like the public outcry and bad publicity was too much, so they fried Rice.
Rice says, "There's no explanation for what's on those films because there is no excuse for them – I was wrong."
Rice got emotional when he said, "I'm deeply sorry for the pain and the hardship I've caused."
Yeah, yeah. When you see it in a movie, like Kicking and Screaming, it's so wrong it's funny. But in real life it's ugly, disturbing and not even slightly amusing.