This is an archived article and the information in the article may be outdated. Please look at the time stamp on the story to see when it was last updated.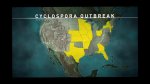 Having unlimited soup, salad or bread sticks anytime soon?
Here's something to chew on.
It turns out, what made peoples' stomachs turn over the past week was salad linked to Olive Garden and Red Lobster. That's the word from the FDA.
The agency has linked the company Taylor Farms de Mexico to the bad lettuce that ended up in salads in Nebraska and Iowa.
But hundreds of people in 16 states, including Texas, have been fighting off the stomach bug called Cyclospora.
It's not deadly, but it's not fun either.
It's also not settling not knowing how everyone is getting sick.
Darden, the company that owns the chains, says the tainted product is no linger in its food supply.
So go on, get yourself some cheddar bay biscuits.