This is an archived article and the information in the article may be outdated. Please look at the time stamp on the story to see when it was last updated.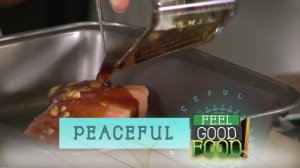 This salmon recipe has just four basic ingredients, and it's ready in a jiff! Try it out for a peaceful experience, all the way around.
Soy Maple Salmon
Ingredients
1 lb. salmon
¼ cup maple syrup
2 tbsp soy sauce
1 clove garlic, minced
Salt
Salsa for serving, recipe below
Instructions
In a medium bowl, whisk together the maple syrup, soy sauce and garlic.
Lay the salmon in a baking dish, and lightly sprinkle the fillets with salt. Pour in the marinade, and massage it into the fish. Turn the salmon skin-side up, to help the marinade soak in. Refrigerate for 10 minutes, and preheat oven to 450F.
Bake for 10-12 minutes, and serve with salsa.
Side Dish Salsa
Ingredients
1 avocado, chopped
¼ cup red onion, chopped
2 tomatoes, chopped
2 tbsp extra virgin olive oil
1 lemon, juiced
½ cup cilantro, chopped
Salt and pepper
Instructions       
Mix all ingredients.  Top fish (or meat of choice) with salsa, and serve.
*This recipe is ideal for 1 lb. of meat.