This is an archived article and the information in the article may be outdated. Please look at the time stamp on the story to see when it was last updated.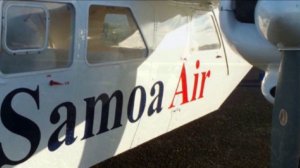 SAMOA – Who knew a tiny little island could be causing such a big fuss?! An airline in Samoa, 'Samoa Air' has ditched the whole paying by your seat thing and replaced it with scales. That's right, they're charging passengers based on their weight.
Some passengers aren't too thrilled. They say it's unfair because skinny people will be paying less and naturally bigger people will have to pay more.
But the airline says it makes it easier for families and more efficient. Customers flying on American Samoa could expect to pay about $.42 per pound.
So if you're tippin' the scales, it might be time to cut back on those carbs. Because with Samoa, you've got to pay for what you weigh!