This is an archived article and the information in the article may be outdated. Please look at the time stamp on the story to see when it was last updated.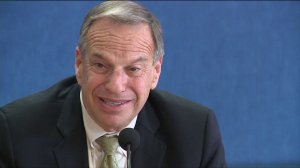 SAN DIEGO, CA – San Diego mayor Bob Filner, who did not have the starring role in A Hole in the Head, is in the spotlight right now, even though he's running hard to avoid attention.
But that isn't going to happen, especially after city attorney Jan Goldsmith announced to reporters that, 'The mayor is not permitted to meet with women alone in city facilities."
The reason the city attorney has told the mayor to stay away from women is because his former spokesperson, Irene McCormack, has hit him and the city with a graphic lawsuit that contains a litany of tawdry allegations, among them, a charge that the mayor didn't want her to wear panties at the office.
"I had to work and do my job in an atmosphere where women were viewed by Mayor Filner as sexual objects or stupid idiots," says McCormack.
But wait, there's more.
"I was placed in the Filner Headlock and moved around as a rag doll while he whispered sexual comments in my ear."
Filner says he won't resign as mayor, and denies all claims of inappropriate behavior, although he has apologized for disrespecting, oh, and sometimes, maybe intimidating women.