This is an archived article and the information in the article may be outdated. Please look at the time stamp on the story to see when it was last updated.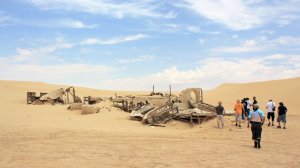 TOZEUR, TUNISIA – If you're a Star Wars fan and always wanted to visit their desert set in Tunisia, the sands of time are running out.
A 'barchan' or shifting sand dune has nearly covered Mos Espa, young Anakin Skywalker's hometown on the planet Tatooine. The set, used in Episode 1 – The Phantom Menace, is located on the Chott El Gharsa salt lake in western Tunisia.
As migrating dunes go, this one is moving as fast as a pod racer, about four centimeters a day. It's expected to bury the set for several years before it moves on.
This isn't the first Star Wars set to be entombed by barchans. Sand swallowed another set back in 2004. That dune has since migrated on leaving the set tattered but accessible to tourists.
Other set locations like Watto's shop will eventually be buried as well; but that barchan will take another 80 years. So you've got a little time to plan that vacation.