This is an archived article and the information in the article may be outdated. Please look at the time stamp on the story to see when it was last updated.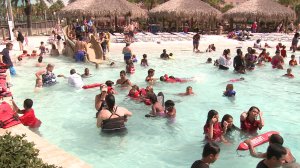 GALVESTON – Summer is here and the Schlitterbahn Waterpark in Galveston was packed. But they had more than just fun in the sun on their minds.
"We participated in an attempt to break the Guinness Book of World Records for the world's largest swimming lesson,' said Chris Ozimek, Schlitterbahn marketing director. 'The message we are trying to send is that swimming lessons save lives."
It wasn`t just the Galveston waterpark that did it. Three other Schlitterbahn parks at South Padre Island, New Braunfels and Kansas City all joined in. There were more that also took place in the record-breaking attempt.
"There are 15 countries on five continents around the world that are participating in it at the same time," Ozimek added.