This is an archived article and the information in the article may be outdated. Please look at the time stamp on the story to see when it was last updated.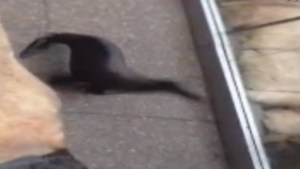 ORLANDO, FL – Jonathan Schellhorn from Warren, Ohio was enjoying a day at SeaWorld with his family when this happened: a sea lion jumps off the rocks in its enclosure and makes a break for it — tearing up the visitor walkway — right at Schellhorn and his family.
Zookeepers at the park chased the little guy down and using those long nets they were able to get the sea lion safely back to its home.