This is an archived article and the information in the article may be outdated. Please look at the time stamp on the story to see when it was last updated.
UPDATE – Alyssa Cantu was found earlier this morning and was being debriefed by police. Her aunt posted a Facebook message that read:
"Alyssa was found a short time ago and is now safe and being debriefed by police. Her health is stable. My sister (Alyssa's mom) will not be taking calls at this time as she is currently being reunited with her daughter. The family would like to thank you all for the prayers and overwhelming amount of support in efforts to bring Alyssa home safe. This reached every corner in the U.S. in less than 24 hrs. The power of prayer has definitely prevailed! Goodnight and God bless you all."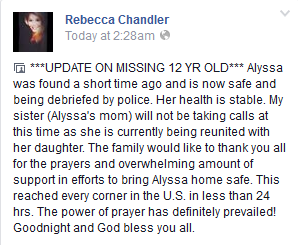 HOUSTON – Harris County officials need your help finding a missing 12-year-old girl who was last seen in the Cinco Ranch area.
Alyssa Cantu was last since Sunday around 7:30 p.m. wearing a pink shirt, blue jeans, and a jacket.
Finding her as soon as possible is crucial since authorities say she is diabetic and insulin dependent.
Investigators have received tips from the public and are actively pursuing all leads.  Anyone with information is asked to call the HCSO Missing Person Unit 713-274-9460.
**UPDATE FROM MOTHER**
Hi I am her mom. The time is closer to 6pm and the area is Lakes of Bridgewater in Katy off of N Mason and Morton. Can you please update this? Someone saw her by a gold 4 door sedan which was parked at the end of our street which was wrecked in the front and missing the front license plate. Please please share!! Thank you everyone!

–Angela Buentello