This is an archived article and the information in the article may be outdated. Please look at the time stamp on the story to see when it was last updated.
HOUSTON, TX - A trip to Austin over the weekend leads to a mysterious missing persons case.  Last Friday, 35-year-old Sidney Taylor and 35-year-old Krislyn Gibson, left Houston to attend the Urban Music Festival in Austin. Neither has been seen since Saturday morning.
"They`re two responsible people. They`re not going to disappear like that. Something happened," shared Mary Ware, Sidney`s Mother.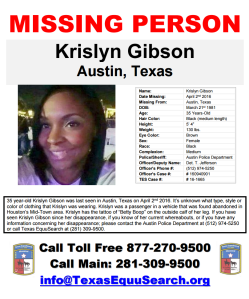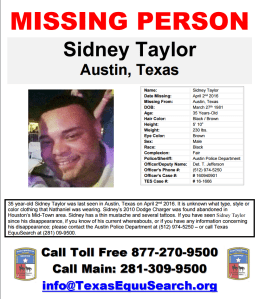 Tuesday, Houston police found Taylor's abandoned vehicle parked in midtown. According to family members, investigators also got a hit off his cell phone about 20 miles away near Bear Creek Park.  HPD called on Texas Equusearch for assistance.
"We have approximately 45 people out at this time… We`re in a recovery mode, " shared Jack Boggess, Search Coordinator with Texas Equusearch.
As family, friends, and volunteers comb through Bear Creek Park, Sidney's mother urges anyone with any information to come forward.
"Whoever you are you need to come and tell us something. So we can just… let it all be over, and the people can, that are helping here, these good people can go and help someone else," shared Ms. Ware.
After a search yielding no results, she still holds out hope.
"Nobody said they`re dead, so I`m hoping if they`re tied up or something, somewhere, that somebody will let them go and say 'ok go.. go home' and everything will be ok," she said.
If you have any information on the whereabouts of Sidney and Krislyn, or have any information that can help the investigation, you`re asked to call crimes stoppers at 713-222-TIPS. Because whatever happened, their loved ones deserve to know.