This is an archived article and the information in the article may be outdated. Please look at the time stamp on the story to see when it was last updated.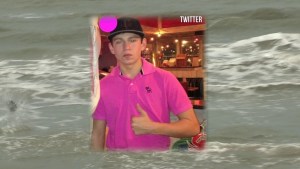 SURFSIDE BEACH – 15-year-old Garret Sebesta was attacked by a shark while swimming in waist deep water. The shark bit the teen's left leg and his left hand before other kids came to his aid. Sebesta was immediately air lifted to Memorial Hermann Hospital in Houston to undergo surgeries and reportedly he's now in stable condition.
"I've lived here for 33 years and we might have maybe one or two shark attacks a year," said Surfside Beach resident Chris Tarter while unloading equipment from his truck, near the site of the attack.
Sebesta was visiting Surfside Beach with his church group. Even though the beach town is in shock, life goes on:
"I grew up on this beach,' says Neva Jackson. 'You can't stop coming to the beach just because one shark attack".
Sebesta suffered serious injuries. We wish him will and hope for a speedy recovery. We're pretty sure doctors will do their utmost to help him return to a normal life.