This is an archived article and the information in the article may be outdated. Please look at the time stamp on the story to see when it was last updated.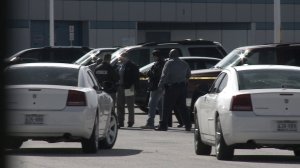 HOUSTON, TX – Tense moments at a Houston High School. A shooting, but it's not quite what you're thinking. This didn't involve any students. It happened in the parking lot of Barbara Jordan High School shortly after classes started.
Houston Independent School District officials say one of their officers saw two people trying to break into a car. The officer approached them and asked them to get out of the car.
"The driver immediately threw the car into drive and accelerated forward toward the officer," said Robert Mock, HISD Assistant Chief.
That's when the officer got his gun and shot the car once. The suspects were still able to get away. As for the officer, he wasn't hurt.
Authorities don't have much to go on, just that the get-away vehicle was a lime green pick-up, and the driver was possibly a Hispanic male in his 20s.
Like with any unsolved crime, if you have any information, give police a call.