This is an archived article and the information in the article may be outdated. Please look at the time stamp on the story to see when it was last updated.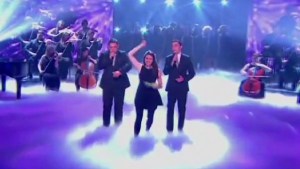 LONDON, ENGLAND – Simon Cowell is our favorite reality TV judge to hate. But while his verbal abuse can be entertaining to us at home, words can be more like sticks and stones to contestants.
So far, physical retaliation against Cowell has been limited to water.
But one woman clucked it up a notch during this season's finale of Britain's Got Talent and chucked eggs at Cowell.
A crew member scrambled to get her off stage, and the performance continued like nothing weird has happened.
The egger has been identified as Natalie Holt. She played viola in the orchestra for the finale performance, but it was her experience as a contestant last season with her band Raven Quartet that inspired the prank.
Holt says Cowell is a "dreadful influence" on the music industry.
Now Holt is eating her words (and her eggs) and apologized for the pelting. She said, "I've never done anything like this before and, in hindsight, I have realized it was a silly thing to do."
Cowell is making like of the silly situation. He tweeted, "I really don't like eggs" and "I don't think eggs should be allowed on talent shows."
Good to know Cowell can take a yolk.