This is an archived article and the information in the article may be outdated. Please look at the time stamp on the story to see when it was last updated.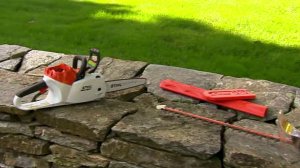 MADISON, CT – How do you make a 41-year-old Connecticut yard business more energy efficient?
Solar powered landscaping equipment!
Madison Earth Care Founder, Bob Blundon, installed solar panels in his home when he realized the same could be done for his business.
Greener energy for an already green job; no one can argue with that.