This is an archived article and the information in the article may be outdated. Please look at the time stamp on the story to see when it was last updated.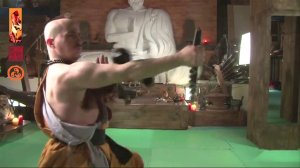 BILBAO, SPAIN – Not everything that glitters is gold. A few years ago, Spanish Kung Fu instructor Juan Carlos Aguilar said during a TV interview that "Buddhism pursues very concrete goals, and that is to try and connect oneself with nature, and to try to understand our body and our nature as a unity."  So much spirituality, so much mindfulness.
Aguilar – a.k.a. Master Huang – is the owner of a pretty successful Shaolin center in Europe, and oh, he's also allegedly a serial killer.
He was arrested last week in Bilbao after Spanish authorities found a woman brutally beaten and tied up in his gym. She died hours later. During the interrogation, the 47-year-old "Juan the ripper" confessed to the murder of another woman, but police believe there could be more.
Though he did train in China with Buddhist monks, Master Huang was actually far from a Master. Clearly this young grasshopper didn't quite get the message.