This is an archived article and the information in the article may be outdated. Please look at the time stamp on the story to see when it was last updated.
STAFFORD – With all of the negative press floating around about school teachers, it was nice to have a positive story about an instructor.  Christian Collins took to social media in order to gather his fourth grade class from the 1998-1999 school year to honor their ex-teacher Julie Borque.  The group, which consisted of mainly of Collin's fourth grade classmates, met up at IHop in Stafford, Texas to reminisce on old times.  Students from other classes was also in attendance.  Citing the positive impact that Mrs. Borque had on all of their lives, everyone  was more than happy to honor their ex-teacher.  And needless to say, Mrs. Borque was very appreciative of their gesture.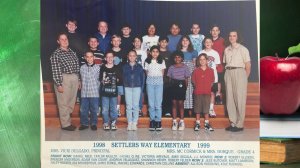 "Their are a lot of things that people can choose to do in their lives." said Mrs. Borque.
"Being a teacher is always what I wanted to do and it brings me great joy to know that I had a small part in making a difference in the life of a child."
Christian Collins honored Mrs. Borque with a certificate of commendation signed by Senator Ted Cruz.
"By showing honor and showing gratitude." said Collins"
"I think that it can be rewarding, not only for Mrs. Borque, but also for us."