This is an archived article and the information in the article may be outdated. Please look at the time stamp on the story to see when it was last updated.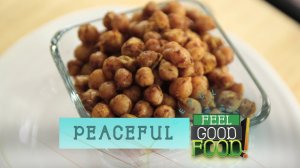 If you like salty midday snacks, and would like to stay away from the vending machine, this recipe is for you. The chickpeas and spices are nutritional powerhouses. Turmeric is even linked with pain relief!
Roasted Chickpeas – Feel Peaceful
Ingredients
1 can chickpeas, drained and rinsed
2 tsp extra virgin olive oil
½ tsp turmeric
½ tsp chili powder
¼ tsp salt
Dash of cayenne
Instructions
Spread the chickpeas over a baking pan and gently dry them with a paper towel. Place the tray in a 200F degree oven for 10-15 minutes, to help them dry out.
Remove the tray from the oven and raise the heat to 325F.
Add the spices and oil to the tray and toss well to coat (use a spoon and be careful, the tray will be hot).
Bake 20 minutes, and give the chickpeas a stir. Cook another 15-20 minutes, until they are sufficiently browned.