This is an archived article and the information in the article may be outdated. Please look at the time stamp on the story to see when it was last updated.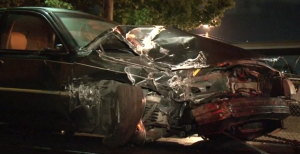 HOUSTON – A woman was fatally hit by an alleged drunk driver Saturday night while trying to help her stepdaughter and grandchildren who ran out of gas in southwest Houston.
According to the Houston Police Department, the incident occurred around 8 p.m. on U.S. Highway 59 at West Bellfort Avenue.
Police said a woman and her two children, a 9-year-old son and 15-year-old daughter, were driving along the Southwest Freeway when they ran out of gas and moved into the emergency lane.
The woman called her stepmother to bring gas for her stalled car.
When the stepmother arrived, the family got out of the car to put the gas in the tank when a driver in a Mercury Grand Marqe clipped the front end of the van, slamming into the back end of the stepmother's Nissan car.
HPD said when the Mercury hit the stepmother's car, it pushed the vehicle into the stepdaughter's Nissan causing it to crush the stepmother who was caught in between the two cars.
The stepmother and 15-year-old daughter were both struck, but her 9-year-old son managed to jump out of the way.
All family members were transported to the hospital, where the stepmother died.
The mother and her two children are in serious condition, but are expected to survive.
The drunk driver was treated was injured and arrested. He faces intoxication manslaughter and intoxication assault charges.