Stiletto-stabbing suspect, Ana Trujillo, appears in court
This is an archived article and the information in the article may be outdated. Please look at the time stamp on the story to see when it was last updated.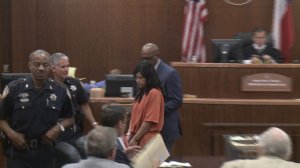 HOUSTON, TX – If the shoe fits, try not to kill your boyfriend with it!
Ana Lilia Trujillo, accused of stabbing Alf Stefan Andersson in the head with her stiletto heel appeared in court where the judge found probable cause in her case. Houston police say stiletto heels were used to bring a bad end to what may have started as a good night between Trujillo and Andersson. When the police arrived at the Parklane Luxury Condominiums Sunday morning, they saw Trujillo covered in blood and the victim lying on the floor with 10 puncture wounds to his head.
The condo belonged to Andersson, a biology professor at the University of Houston. In the police report Trujillo claims they had been fighting and she felt the need to defend herself. That's when, supposedly, the shoe dropped on his face!
Jim Carrol, who claims to know Trujillo by her working name Ana Fox, an owner of a massage business, isn't surprised to hear about the alleged high-heel weapon. He says she once told him that she would use her stiletto as a weapon if any man crosses her.
Better wear comfortable shoes; this sounds like it's going to be a long trial!