This is an archived article and the information in the article may be outdated. Please look at the time stamp on the story to see when it was last updated.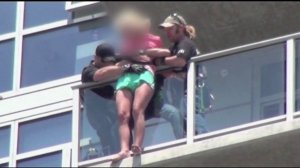 SAN DIEGO, CA – Some stuntmen have a new role as real life heroes after rescuing a damsel in distress threatening to jump from a 14th floor balcony in San Diego.
Police say the woman was drunk and took to the bottle after a bad break-up.
Her relationship may be over; but Greg Sergeant and his crew weren't going to let her life be over too.
They immediately bolted into action.
First they had to scale a fence; then they found a building security guard. He let them in and they raced to the 14th floor.
They bust through the glass door and grabbed her.
The audience below cheered for a job well done. Talk about an award winning and lifesaving performance.