This is an archived article and the information in the article may be outdated. Please look at the time stamp on the story to see when it was last updated.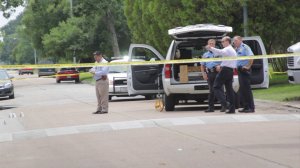 HOUSTON, TX – Cops nabbed the man wanted for allegedly shooting and killing a Houston fire inspector Monday.
David Stoneham, 55, was killed in the driveway of his home in the 500 block of West Troy in north Houston.
His 17-year-old daughter says she saw the whole thing go down.
She told cops her stepfather, 45 year old Alain Bell, shot Stoneham multiple times with a shotgun then fled in his truck.
Cops spotted Bell Tuesday afternoon driving on 610 near South Main Street, a day after filing charges.
They chased him for a bit but eventually got him.
Stoneham was a 33 year veteran of the Houston Fire Department. With that and a key witness, Bell could be looking at some serious jail time.