This is an archived article and the information in the article may be outdated. Please look at the time stamp on the story to see when it was last updated.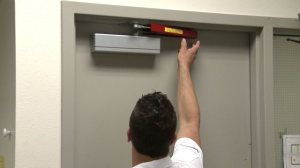 MUSCATINE, IOWA (WQAD) — It's the last thing a teacher wants to have to think about: what to do in case a shooter is in the building.
Mass shootings in the past year like Sandy Hook, and the one at an Oregon high school on Tuesday, have led a few Iowa middle school teachers to take action, and invent a device that will protect their classrooms.
"The Sleeve" is a 12-gauge carbon steel case that fits around the door's closer arm, securing the door from the inside. The Sleeve can withstand more than 550 foot-pounds of force, making it nearly impossible to open from the outside.
Teacher Daniel Nitzel got the idea from the school's active shooter training.
"We were instructed to tie a belt or a cord around the closer arm. It seemed like a logical way to secure a door without having to go into the hallway, [but] it took us a long time to get a cord, stand on a chair, and tie a knot, which could potentially be the most important tie of your life." said Nitzel.
"I can tell you in our training, all five rooms that the teachers were trained in; the doors were breached, the cords were ripped, and the officer who was portraying the active shooter came in and killed all of us," Nitzel said.
That's when Nitzel and his colleagues formed the company, Fighting Chance Solutions, and began designing blueprints for The Sleeve. He said it's been ten months in the making, but they finally have it ready and waiting for patent.
"We look at it as a cheap insurance policy. If you have someone out in the hallway, and you have an active situation, a dangerous situation unfolding and [don't] want to go out into the hallway and lock your door, we want to provide you with a way to close that door," said Nitzel.
The Sleeve is lightweight and compact, so it can be quickly applied and removed from the door's opening mechanism in case of an emergency. It also allows the teachers to keep the door closed without having to enter the hallway to lock it from the outside, keeping them safe from harm.
"I think it's a great product. It's going to buy kids and teachers time for shootings," said Muscatine Police Chief Brett Talkington. "These shooters [are] going to be pulling on the door. If they can't get in, they're going to move on."
The Sleeve still awaits patent, but a local community college is fitting buildings across campus with the device.
[protected-iframe id="597cf29dab01ed3b87cee6e1b187fd8e-40471470-40036732″ info="http://player.ooyala.com/iframe.js#pbid=728b068401c44c3e960e1c9f3ab47295&ec=JzZXM4bjqiVq_hkL016Ab_2EaScZg9TL" width="601px" height="433px"]