This is an archived article and the information in the article may be outdated. Please look at the time stamp on the story to see when it was last updated.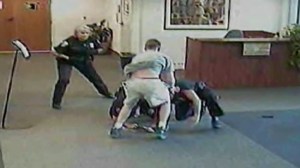 BEAVERTON, OR – A trip to the zoo took a wild turn in Beaverton, Oregon.
Beaverton Police say 18-year-old Jared Leone and some friends did mushrooms at the zoo.  Jared eventually ends up at Beaverton City Hall panicking because, police say, he hallucinated about a terrorist plot unfolding on a light rail.
Ironically, Jared was the one that caused terror. He walks into City Hall and wrestles with officers.
"Strikes him in the head and all three of the officers try to grab him," said Sgt. Jim Shumway with Beaverton, OR Police.
Jared then grabs the officer's gun and fires a shot into the wall. Luckily no one was hurt. In the end, six officers, a tazer and handcuffs were no match for this high guy.
"If you don't feel pain and you are experiencing almost super human strength because of what you are on, he somehow broke them," said Shumway.
Flip the script in Escambia County, Florida. This time, it was the cops who caused terror for one man. Officers are accused of shooting an unarmed man 17 times.
The victim's mother says 60-year old Roy Middleton was fishing out a loose cigarette from the family's car which was parked in his mother's driveway. That's when police showed up and ordered Roy (thinking he was a car thief) to step away from the car. His mother claims Roy complied, and raised his hands up. At the time, Roy was holding his keys, which had a metal flashlight attached.
When Roy turned to face police, he says that's when they opened fire.
"The doctors say he's going to be fine.  He's in a good mood but they had to put a rod in the left femur because the bullets shattered the bones there," said Ceola Walker, the victim's mother.
Wow, we wouldn't be in a good mood. Looks like his bone is shattered, but not his spirit.  Hope the cops get Roy a new car.