This is an archived article and the information in the article may be outdated. Please look at the time stamp on the story to see when it was last updated.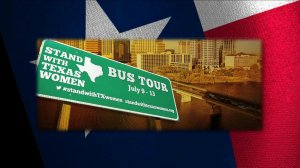 AUSTIN, TX – The Stand With Texas Women bus tour kicked off in Austin with Democratic lawmakers joining Planned Parenthood and other opponents of the abortion bills moving forward in the Legislature.
Wendy 'the Filly Buster' Davis of Fort Worth Was one of the first to take a seat. Houston senators Rodney Ellis and Sylvia Garcia joined her, along with State Rep. Jessica Farrar.
The Senate's Health and Human Services Committee heard from hundreds of witnesses until late into Monday night, but did not take a vote on their bill. The House today held a second reading on its bill, also without taking a vote.
North Carolina has its own abortion bill that's causing a ruckus.
Like Texas, North Carolina would make abortion clinics meet the same standards as outpatient surgical centers, but unlike in Texas, it would ban gender-selective abortions.
Wisconsin's governor just made it law to make abortion doctors have admitting privileges to hospitals within thirty minutes of their practice, a provision in the bills going through the Texas Legislature.
But before the ink was dry on his signature, a federal judge issued a temporary restraining order to prevent enforcement of the law.
Planned Parenthood says the law treats abortions doctors differently from doctors who don't do abortions.
Planned Parenthood did not challenge the portion of the law requiring women to have an ultra-sound before getting an abortion.
Lawyers will fight it out in court next week.