This is an archived article and the information in the article may be outdated. Please look at the time stamp on the story to see when it was last updated.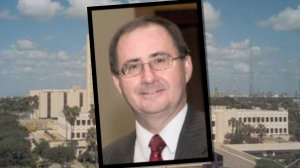 CORPUS CHRISTI, TX – Tragedy in the Nueces County Courthouse in Corpus Christi.
Authorities believe State District Judge Tom Greenwell shot himself in the head Monday night in his judge's chambers.
Police got the call around 7 p.m., two hours after the courthouse closed.
Reports say Greenwell was supposed to be on vacation this week preparing for a murder trial that was scheduled to begin next week.
Greenwell first won election to the bench in 2001, becoming the first Republican to win a county-wide judicial race in Nueces County.