This is an archived article and the information in the article may be outdated. Please look at the time stamp on the story to see when it was last updated.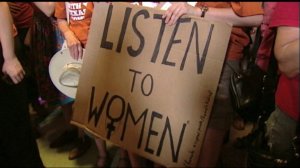 AUSTIN, TX – Texas House Democrats tried just about every trick in the book, including staying away, in their efforts to bill-a-buster a wide-ranging anti-abortion bill.
But the Republican-controlled House eventually passed the measure.
It bans abortions after the 20th week of pregnancy, forces clinics to have the same minimum standards as ambulatory surgical centers, and requires doctors to have admitting privileges at nearby hospitals.
Capitol police removed at least one protester during the debate that started Sunday night and ended this morning.
Democrats and opponents say there is no scientific evidence to support claims that the fetus feels pain after 20 weeks, the reason given for banning late-term abortions.
Democrats, like Houston representative Jessica Farrar, say the legislation is only about politics, plain and simple. 'The truth is that these bills aren't about women's health, and they aren't about the will of the people. They are about winning Republican primaries.'
The bill now goes to the Texas Senate.
Opponents hope Democrats there will filibuster the bill and keep it from coming up for a vote before the special session ends at midnight Tuesday night.