This is an archived article and the information in the article may be outdated. Please look at the time stamp on the story to see when it was last updated.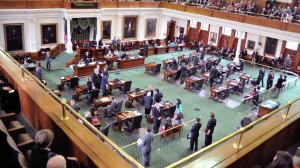 WASHINGTON, DC – The U.S. House of Representatives passed a bill banning late-term abortions for women more than 22 weeks into their pregnancies.
The bill included new Republican language that allows a woman to get a late-term abortion if the pregnancy is because of rape or incest, but she has to report the crime to police.
The Senate is not expected to act on it, and President Obama has threatened to veto it.
In Austin Tuesday night, State Senator Glenn Hega of Katy removed the 20-week ban from his anti-abortion bill, which passed on a vote of 20-to-10.
The bill requires all Texas abortion facilities to meet the minimum standards of ambulatory surgical centers.
Opponents, like Sen. Kirk Watson, an Austin Democrat, charged that this bill makes women the victims of political ambition, "These are political decisions that are part of a political effort, and women are collateral damage in that effort. And people in this effort are building political campaigns over the rights of Texas women."
Houston Republican Dan Patrick disagreed, "I think it's a proud day. It's a step forward for women's health. It's a step forward for life. And I'm proud to stand here, and I don't apologize for that vote."
Hegar's late-term provision remains as a stand-alone bill, but it and the restrictions on clinics seem to have little chance of becoming laws.
Only a week remains in the special session, and the House hasn't even scheduled a hearing on either bill.