This is an archived article and the information in the article may be outdated. Please look at the time stamp on the story to see when it was last updated.
MIDLAND, TX – Valedictorians reach the highest academic achievement among their peers, and it's a very proud moment.
Larissa Martinez took center stage at McKinney Boyd High School before the Class of 2016 to not only inspire the student body to overcome their struggles in life, but to share her story.
Martinez, who will be a Yale student in the Fall on a full scholarship, explained how she, her mother, and her sister left an abusive and alcoholic father in Mexico City when she was 11 years old.
She's now 18, held a 4.95 grade point average, and took 17 AP classes over her high school career.
In her speech, she said, "I am one of the 11 million undocumented immigrants living in the shadows of the United States.  Undocumented immigrants are people, too.  I feel like I owe it to all of you to be honest and I owe it to myself."
Martinez did not mention presumptive Republican Presidential Candidate, Donald Trump by name, but mentioned his slogan, "Make America Great" and said, "The US immigration system is broken, and it has forced many families to live in fear."
She added,  "America can be great again without the construction of a wall built on hatred and prejudice."
The teen is in the process of having her citizenship application processed and moved to Texas on a tourist visa in 2010.
Martinez's speech makes national headlines on the heels of a Valedictorian from Austin proclaiming her own immigration status.
Mayte Lara Ibarra is head of her class at David Crockett High School, and posted she is undocumented in a tweet, that was later deleted.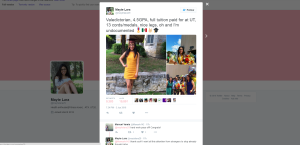 Ibarra  didn't expect the post to get so much attention, but tweeted a follow up that all the messages she was getting were "kinda scary" and wanted it to "stop."
Valedictorian speeches should inspire you, and these young ladies have definitely shown their voices were heard, whether you agree their words of wisdom were wise or not.