This is an archived article and the information in the article may be outdated. Please look at the time stamp on the story to see when it was last updated.
HOUSTON – While most people see the golden arches as just a place for a quick meal, Joseph Pena viewed the fast-food restaurant as a golden opportunity.
McDonald's recently held the burger showdown contest, where over 25,000 people submitted original hamburger recipes for a $5,000 prize.
The winner was Pena's "Lone Star Stack", which features two large beef patties, a smothering of toppings, and of course… Texas toast.
"When I was putting it together on the website, I just did it based off my personal preferences and when I finished it, I realized it was very similar to what my mom would cook for me at home. So really, I feel like I might owe her 5,000 dollars." Pena says with laughter, "I feel special because it's like the contest, but it was really like, you know, a family creation."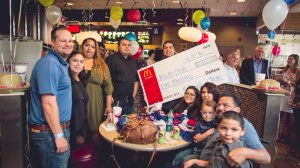 As Joseph enters his local McDonald's in East Houston, the customers unknowingly sip sweet tea and sink their teeth into his creation.
He reflects on his recent success.
"I'm really not a guy who likes attention or anything like that, but I knew when I won the contest, that this comes with the territory," Joseph said as he waited for his food.
Pena is a hardworking and humble student at Houston Community College where he maintains his passion for digital marketing.
In his free time, he spends time with his friends and loves video games, but mostly likes to keep his life quiet and focused on his family.
One question we all have is… How will he use the prize money?
"So I put it towards my family. You know, a few bills around the house. Things were a little bit behind. My dad had a few medical bills that needed to be paid… That, and you know, just little stuff here and there," said Pena.
Joseph exits the restaurant, heading back to his life away from the spotlight. He appears to be nothing but positive.
"People keep saying I might get opportunities or this and that, but whatever comes my way, I'm just excited about having the burger in the store. Anything else is just a bonus for me." Joseph stated as he was leaving the restaurant.