This is an archived article and the information in the article may be outdated. Please look at the time stamp on the story to see when it was last updated.

Banana bread has got to be moist. This recipe nails that without any extra fat. Bam!
Banana Bread – Feel Treated
Ingredients
2 cups white whole wheat flour
2 tsp baking powder
½ tsp baking soda
½ tsp salt
1 cup sugar**
2 large eggs
⅓ cup extra light olive oil
1 tsp vanilla extract
4 very ripe medium bananas, mashed (about 1 ¼ cups)
½ cup nonfat Greek yogurt
**Sugar can be reduced to ¾ cup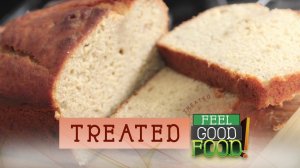 Instructions
Preheat oven to 350F.
Combine the flour, baking powder, baking soda and salt in a medium bowl, and stir gently.
In a separate large bowl, whisk the sugar, eggs, oil, and vanilla.  Stir in the mashed bananas and yogurt, and then stir in the flour mixture until just combined.
Bake for 55-60 minutes to one hour.