This is an archived article and the information in the article may be outdated. Please look at the time stamp on the story to see when it was last updated.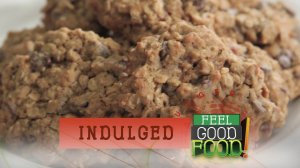 An indulgent homemade dessert! These bad boys can give you a burst of joy (especially fresh out of the oven).  Mind some portion control for the full effect.
Oatmeal Chocolate Chip Cookies
Ingredients
¾ cup butter, softened
1 cup brown sugar (I like coconut palm sugar as a more natural alternative)
2 eggs
1 tsp almond extract
1¼ cups flour, ideally white whole wheat
1 tsp baking soda
1/2 tsp salt
2 ¾ cups old fashioned rolled oats
1 ¼ cup chocolate chips
Instructions
Preheat oven to 375F.
In a large bowl, combine the butter and sugar with an electric beater.   Beat in the eggs and extract.
In a separate bowl, stir together the flour, baking soda and salt. Gradually stir the dry mixture into the butter mixture. Stir in the oats and chocolate chips.
Drop small spoonfuls of batter onto a greased baking sheet. Bake 8-10 minutes.
Makes about 30 cookies.