Tornado strikes Arkansas; US braces for triple weather threat
This is an archived article and the information in the article may be outdated. Please look at the time stamp on the story to see when it was last updated.
(CNN) — A tornado destroyed some residences Friday in Mountainburg, a town in western Arkansas, the National Weather Service in Little Rock and the town's mayor reported.
The storm was part of a cocktail of extreme weather taking shape in the United States for the weekend, with severe storms in the Mississippi River valley, critical fire danger in the southern Plains, and heavy snow for the northern Plains and Upper Midwest.
Mountainburg Mayor Neal Moon told CNN several homes and mobile homes were "completely gone" and many others sustained extensive damage. The elementary school was hit by the tornado, Moon said, but children were not there at the time.
Several people were reported trapped in damaged homes, Arkansas Emergency Management spokeswoman Melody Daniel said, citing information from the local emergency manager. Efforts were underway to rescue these citizens, Daniel said.
Crawford County Dispatch said rescue efforts were ongoing but could not speak to any reported injuries.
Moon said he'd heard of heard of only one person who was injured and had to receive stitches.
Emergency response was big, he said, adding the town is "all blue lights."
Joshua Brown posted a video of the storm on Twitter, saying, "I think we just drove through rotation in Mountainburg. Saw the wall cloud, saw the rotation. This video does not do it justice cause it formed really quickly."
@5NEWSGarrett I think we just drove through rotation in Mountainburg. Saw the wall cloud, saw the rotation. This video does not do it justice cause it formed really quickly. pic.twitter.com/nqYFCyqWQB

— Joshua Brown (@coach_jsbrown) April 13, 2018
Anna Latawiec, a student at the University of Arkansas, also shot video of the twister.
"I was having a bad panic attack, but my boyfriend who was driving calmed me down," she told CNN. "We felt as if the car was going to flip over."
thought it was a good time to leave Fayetteville but a TORNADO DECIDED TO SWOOP ON IN (excuse my screaming lol) pic.twitter.com/XX0cnLF24R

— anna (@annuhbean) April 13, 2018
Earlier Friday, the Storm Prediction Center in Norman, Oklahoma, issued a rare PDS (particularly dangerous situation) Tornado Watch through 10 p.m. (11 p.m. ET) for parts of northeast Texas, northwest Louisiana and much of Arkansas.
This kind of watch is issued in advance of the development of multiple and very strong tornadoes, capable of widespread damage. Major cities included in the watch include Little Rock, Shreveport and Texarkana.
CNN meteorologists said the storm system could pack quite a punch, as there is a lot of energy in the middle and upper levels of the atmosphere.
There's a storm chaser traffic jam in Tornado Alley
"Several tornadoes (some strong), very large hail and damaging winds will be possible," the SPC said.
Saturday, the risk of severe storms is forecast to move into the Deep South, stretching from eastern Louisiana to the Florida Panhandle and north to Nashville.
'Historic' fire danger
Satellite imagery captured the rapidly developing wildfires Thursday across Oklahoma. These historic fire conditions continue Friday. https://t.co/HCZHYQMk5L pic.twitter.com/aglmGVjHeB

— CNN Weather Center (@CNNweather) April 13, 2018
As an extensive storm system develops over the intermountain West and pushes east, a significant multiday fire threat is in place from the Southwest into the central and southern high Plains. Thursday marked the second day of the danger and brought "extremely critical" fire conditions — the highest threat level — lasting into Saturday.
The National Weather Service in Norman, Oklahoma, went as far as to say that "historic" fire conditions are expected Friday.
"Historic" is "Historically Critical" in the Red Flag Threat Index. It is triggered when relative humidity and wind speed combinations exceed values observed in a 10-yr period.

— NWS Norman (@NWSNorman) April 11, 2018
As the system moves out of the Rockies, it is expected to bring very warm and dry conditions with strong gusty winds — all the conditions necessary for extremely critical fire danger.
Warnings for the high danger, known as red flag warnings, are posted for portions of five states stretching from Arizona to Kansas and cover more than 14 million people.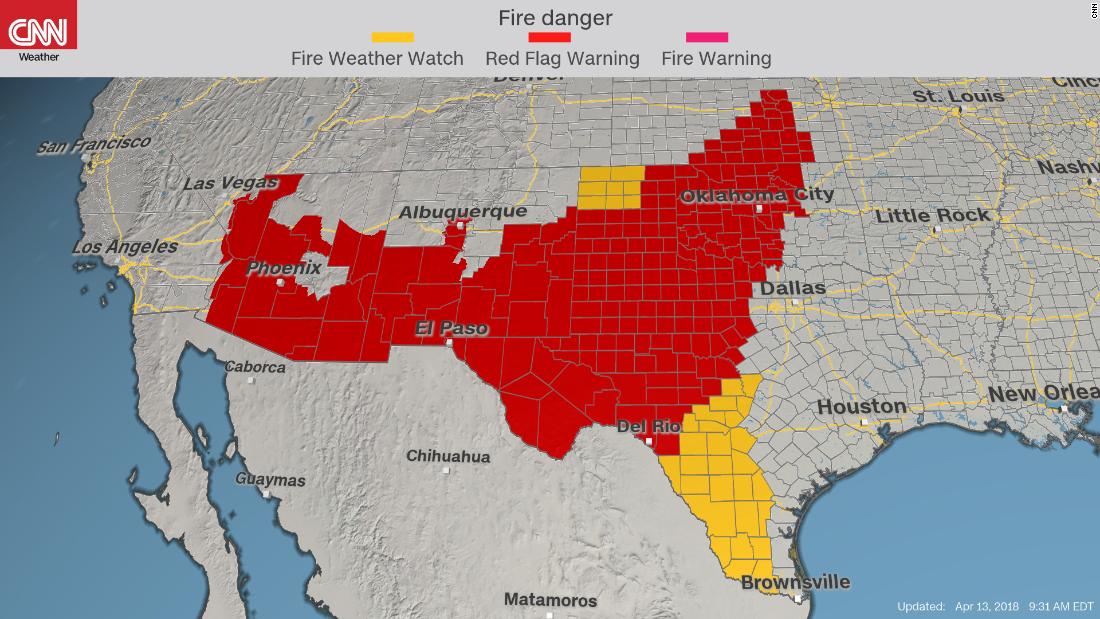 Temperatures across the region are expected to soar into the 80s and 90s, winds will be sustained at 30 to 40 miles per hour with gusts well over 50, and relative humidity values will drop below 10%. To make matters worse, much of the area is under severe to exceptional drought, thanks to persistent dry conditions. This will provide ample dry fuel and allow extreme rates of growth for any fire that starts.
Large blizzard underway
Yes, this weekend marks the middle of April. And yes, heavy snow is still in the forecast for the northern Plains and Upper Midwest.
On the northern side of the storm, frigid air is expected to filter south from Canada. Where the air meets moisture, we will see yet another blast of April snow.
The same strong winds that threaten to turn brush fires into raging infernos on the southwestern side of this storm system will cause blowing snow and whiteout conditions on the northern side.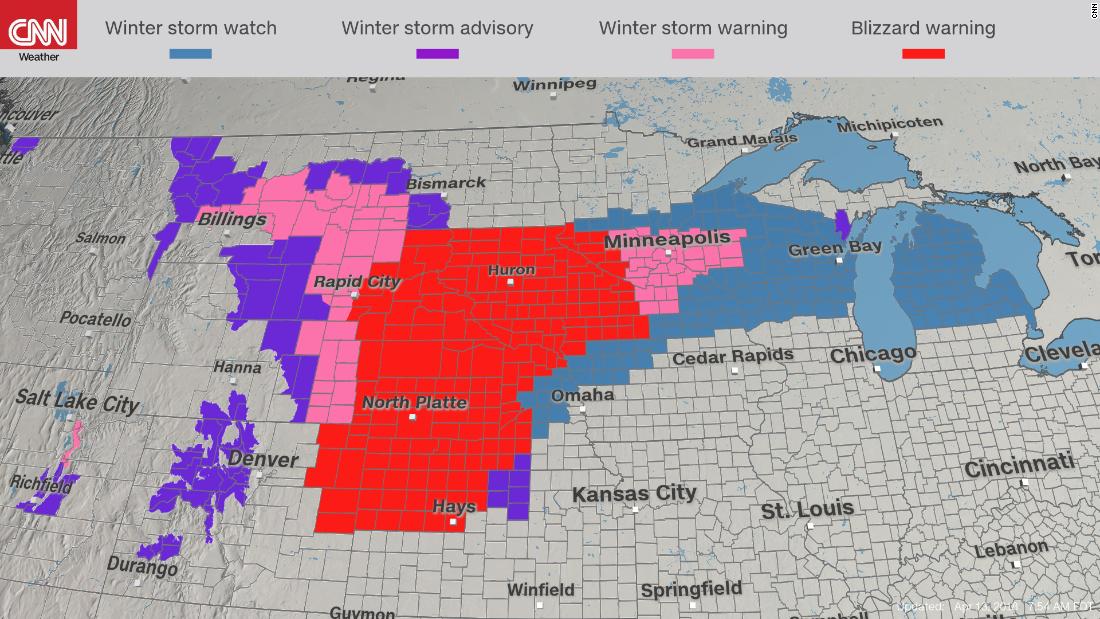 Blizzard warnings are in place from South Dakota to Kansas, where a foot or more of snow and winds of 40 to 50 mph is forecast for Friday.
But the spring snow will not be limited to the northern Plains. Six to 12 inches will fall in Nebraska through the Upper Midwest.
Snow is expected to move out of the northern Rockies and into the Dakotas and Nebraska on Friday. Friday night and Saturday, it will spread into Minnesota, Wisconsin and northern Michigan.
This weekend's storm has a lot of energy and could cause significant impacts from heavy snow and freezing rain. A Winter Storm Watch is in effect Friday night through Saturday #mnwx #wiwx pic.twitter.com/88Dk4TGpiH

— NWS Twin Cities (@NWSTwinCities) April 11, 2018
In addition to the snowfall, the forecast calls for freezing rain and ice across a broad stretch of the Great Lakes this weekend, adding to treacherous travel conditions that will be widespread across the northern tier.
This April weather is likely to have many in the north begging to skip spring and head straight into summer!