Tornadoes tear through the Midwest
This is an archived article and the information in the article may be outdated. Please look at the time stamp on the story to see when it was last updated.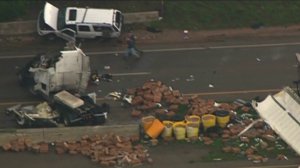 SHAWNEE, OK – A massive, reportedly at least half-mile wide tornado tore-up areas near Oklahoma City on Monday, and other states took a beating too.
The wicked weather caps-off a brutal weekend in the Midwest. 26 reported were tornadoes. 45 homes damaged. One person killed and at least a dozen injured.
Oklahoma got hit the hardest.