Trump falling far behind in nominating State officials
This is an archived article and the information in the article may be outdated. Please look at the time stamp on the story to see when it was last updated.
WASHINGTON — As President Donald Trump proposes to slash nearly a third from the State Department's budget, the nation's diplomatic agency grapples with a more immediate problem: a lack of top officials.
Not only have no deputies been confirmed to join Secretary of State Rex Tillerson, but they haven't even been nominated in the first place.
As of Friday, the President has yet to send a single nomination to the Senate for top posts at the State Department, aside from Tillerson himself. The totals do not count ambassadorships because they are not considered jobs charged with running the department.
That puts him far behind the last three presidents.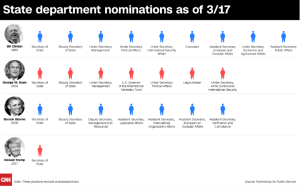 Presidents Barack Obama and George W. Bush had already nominated seven top officials each by this time in their first terms. President Bill Clinton had nominated nine people to help lead the State Department by now, according to data from the nonpartisan Partnership for Public Service.
Although the process generally took through March and April for previous nominees to complete their confirmations, that has only heightened concerns that without even a nominee announced for many roles, it could be months before Trump's State Department has the key people in place to run the nation's foreign policy.
Positions such as the deputy secretary of state and deputy secretary of state for management are some of the workhorse jobs that keep the trains running on time at Foggy Bottom. During Obama's first term, both roles had Senate-confirmed officials in place in January, with nominees to other positions on the way. So far, Trump has not named who he'd like to see in either spot.
Mark Toner, acting spokesman for the State Department, said the administration was "working on identifying qualified candidates for senior department positions and trying to fill them as quickly as possible."
Other employees stepping in
Toner cautioned that the department was not rudderless, as employees are filling in to handle responsibilities while the process plays out.
"I think it's also important to stress that there's a very capable diplomatic corps and civil service corps within the State Department," he said. "And many of these individuals have stepped into acting roles or remained in acting roles in order to provide consistency through the transition."
Another State Department spokesperson declined to comment further on the issue Friday, instead referring back to Toner's previous statements.
But although officials working temporarily on an acting basis do play an important role to help the government keep running during a transition, their power can be limited, according to Max Stier, president of the Partnership for Public Service, which shared some of its data with CNN.
"An acting person is a bit like the substitute teacher," Stier said. "They may be a wonderful teacher, but the fact that they're the substitute teacher means they get no respect, they have no perceived authority to solve things, they don't set the lesson plan, and you also don't build the same kind of rapport with your peers across government, which is also super important."
At places like the State Department, this can be particularly true for the jobs like deputy secretary of state, as that person tends to manage much of the day-to-day operations.
Stier compared deputy secretaries to chief operating officers, saying little effective management can be done without them.
Moreover, with the boss — in this case, Tillerson — constantly traveling the world as the nation's top diplomat, that creates extra logistical challenges. For example, Tillerson is currently in Asia, visiting with counterparts in Japan and South Korea, and soon China. Back in Washington, if a world leader or top foreign official comes to town during that time, like German Chancellor Angela Merkel did Friday, it would generally fall to Tillerson's deputy to handle such a visit in his absence.